Tropical Blister Foils Description
Typical Structure of tropical blister foil is two layers: oPA / AL / VC. Tropical blister foil consists of nylon, aluminum and adhesive, and in fact, tropical blister foil is a sheet of material combined of above three raw materials through laminating machine with certain temperature and pressure.
Tropical blister foil is designed to improve barrier properties in traditional aluminum-plastic packaging, by adding aluminum-plastic composite film to cover on the PVC blister back, and then a tropical blister aluminum packaging can be cold formed.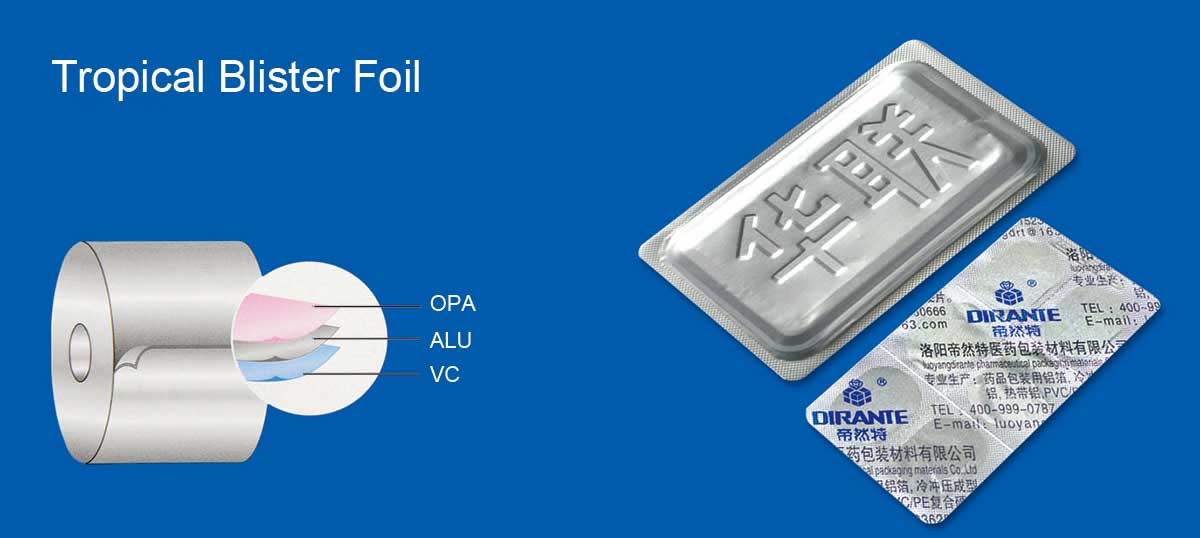 Tropical Blister Foil Specification
Name
Tropical Blisterpack Foil
Structure
oPA 25-30 mic/ ALU 45-75 mic/ VC 3-8 gsm
Specification
Width: 60-- 660 mm;
Thickness: 70 - 110 mic;
Core ID: 76 mm, paper reel;
Roll OD: 200-280mm, also can be as your request.
Tropical Blister Foils Features
High strength of mechanical property, good formability, and high strength heat sealing, such can be suitable for high-speed packaging machine.

100 % barrier against water vapor, gases, light etc.
Excellent formability
High degree of thermal stability
High aesthetic appeal
Sealable with PVC/ PVDC film
Colorful surface as RAL color-list
Tropical Blisterpack Foil Applications
Aluminum Tropical Blister Foil is used to cover PVC blister packing to protect medicine., such as capsules, tablets, powder, liquids and suppositories, which is highly protective to light or moisture or oxygen.

Tropical blister foils is suitable to used in the tropical or hot & humid area, or the area with rich UV rays
Tropical blister foils are designed for use as final packaging of pharmaceuticals into flexible foil pouch on high speed high output lines. These tropical blister foils feature sandwich layered construction of OPA/Al/VC manufactured on automated digitally controlled equipments to assure consistency, reliability and extreme functionality allied with aesthetics.
Our quality control department and our focus on use of specifically chosen materials blended into the perfect manufacturing process assures no stress cracks, highest degree of sealing to provide an impenetrable barrier, flexibility of the film, ease of use and looks in a perfect package. Ultra Foil uses only imported, specifically chosen polymer films, heat seal lacquer and aluminum foil. In addition, we manufacture in-house our proprietary blend of HS formulations to assure total reliability.